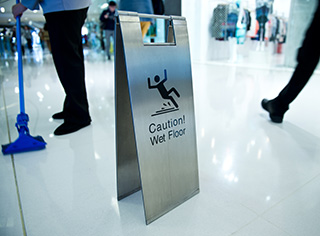 Injury lawyer Bradford D. Brown represents victims of slip and fall accidents throughout California. Slip-and-fall accidents can occur on public property, property owned or leased by a business, or private property. In some instances, a slip-and-fall may be due to a lack of maintenance that creates an unsafe condition: perhaps a business failed to warn visitors of known hazards (as in the case of construction). Oily, slick driveways … obstructed stairwells … uneven walkways … wet pedestrian walkways … broken handrails … these are all potentially dangerous situations which cause devastating slip-and-fall accidents each year.
Courts have devised complicated rules that necessitate evidence of negligence and liability. In many slip-and-fall cases, you must prove the condition existed long enough for the defendant to have remedied it; and yet did not. Bradford Brown represents victims of slip-and-fall injuries throughout California, and is eager to help you pursue rightful recovery and retribution.
Have you been in a Slip and Fall Accident?
Contact the Law Offices of Bradford D. Brown at (805) 963-5607 or via our online form to discuss the circumstances of your slip and fall accident, the options available to you, and how to best handle your case in a timely and satisfactory manner.