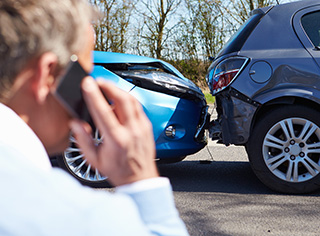 Driving is a fact of life in California. Heavy traffic, poor road conditions, sudden rain, and difficult weather conditions are some of the factors that contribute to auto accidents here. Add to that drivers who are under the influence of drugs or alcohol, on cell phones (even hands-free) or texting, distracted by children or other passengers; operating without a license or insurance – and the roads are become an increasingly dangerous place. Vehicle failure – parts such as brakes, tires, design or manufacturing defects – may also contribute to a case. And injuries resulting from car accidents can be life-changing: whiplash, broken bones, burns, nerve damage and even paralysis.
Reparation for automobile accident victims is a must. California personal injury attorney Brad Brown has law offices in Santa Barbara, Ca. He is an experienced automobile accident attorney handling motor vehicle accident cases across California including car accidents, truck accidents (commercial and personal), motorcycle accidents, SUV accidents and more.
Have you been injured in a motor vehicle accident?
Contact the Law Offices of Bradford D. Brown at (805) 963-5607 or via our Free Consultation Form to discuss the circumstances of your auto accident, the options available to you, and how to best handle your case in a timely and satisfactory manner.